Facilities
Location
Longitude and latitude: 46.146N, 117.016W
Navigable end of the Columbia-Snake River System, 465 river miles inland from Portland/Vancouver
745 feet above sea level
Crane
250-ton Manitowoc 4100 Series 2 Lift Crane
120-foot boom
Picking limits – 193,000 lbs at 32-feet (max pick off a river barge), 140,000 lbs at 40-feet, 103,000 lbs at 50-feet, 81,000 lbs at 60-feet.
Indoor Storage
20,000 sf Dockside warehouse for cross docking
150,000 sf secure, full service warehouse—Inland 465
Security
Dockside security cameras and lighting
Personnel
Certified crane operators
Non-union
Navigation Channel
14 foot deep navigation channel
50 barging hours between Port of Portland/Vancouver and Port of Lewiston
Dock
Outdoor Storage
Approximately 20 acres available adjacent to dock facilities
Additional on-site mooring dolphins to service multiple barges
Highways
The Port's location next to US Highway 12 allows to direct link to markets in Montana.
The Port's proximity to US Highway 95 allows for links to Boise, Idaho, and US-84 to the South, and Spokane, Washington and US-90 to the North.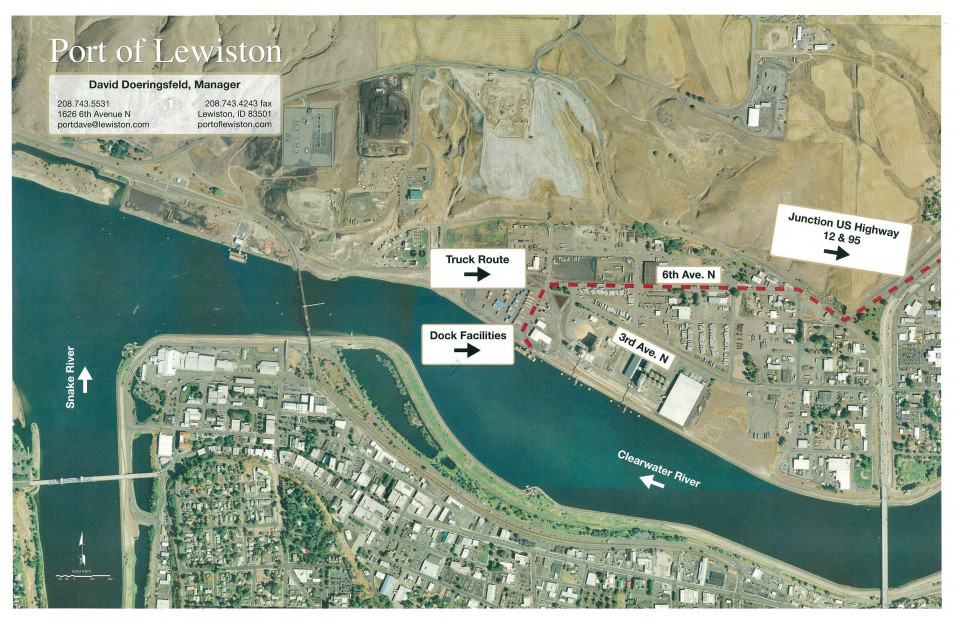 Break Bulk
We are open for business! As part of our nation's "Marine Highway," the Port of Lewiston, strategically located, is at the farthest end of the Columbia-Snake River System, 465 river miles inland, and offers an equitable, alternative route for bulk cargoes destined into Canada, Wyoming, Montana, North Dakota and beyond.
Container Shipping
Container on barge service is temporarily suspended. However, starting in Jan. 2018, the Port of Portland announced that Swire Shipping will begin offering container and general cargo service at the port's Terminal 6. Hopefully, the resumption of container service at Portland will lead to the return of container on barge service on the Columbia-Snake River System. Please contact Kim, Port of Lewiston Traffic Manager at 208.743.3209 to inquire about container shipping status.
Container Yard
Container barge service began on the Columbia River in 1975 with an average of 50 containers per month barged into the Port of Portland.  In 1978 the Port of Lewiston began shipping containers on barge, moving a total of 507 TEUs for the year.
Contact us
Scott Corbitt, General Manager
Port of Lewiston
1626 6th Ave North
Lewiston, ID 83501
208.743.5531
Container Yard
Kim, Traffic Manager
1224 6th Avenue North
Lewiston, ID  83501
Ph: 208.743.3209
Toll Free: 877.777.8099
Fx. 208.743.3262
Mon-Thurs: 8:00 a.m.-4:30 p.m.