Digester arrival showcases river, expanded dock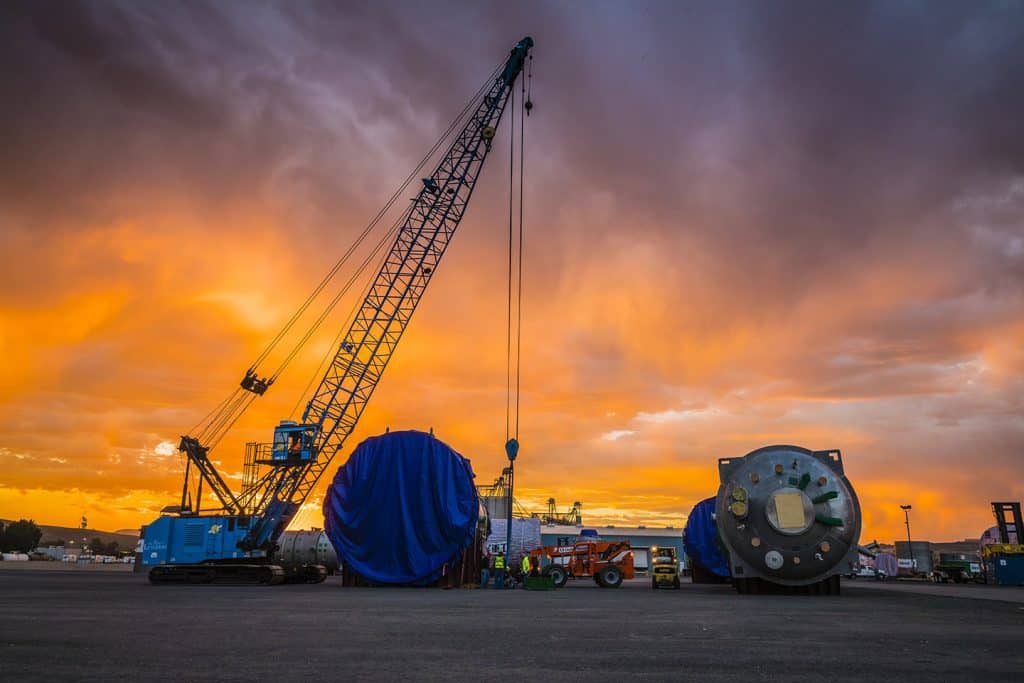 Photos courtesy of Omega Morgan, the equipment transportation company that handled logistics for importing the digester. See  more on the Port of Lewiston website.
Clearwater Paper shipped its new digester directly to Lewiston, thanks to the 465-mile Columbia Snake River System and the Port of Lewiston's 275 ft. dock offering heavy pick and roll-on/roll-off capabilities. Equipment arrived in late September and will be stored at the Port's container yard until it is ready for installation.
"We are excited to play a role in this project that supports one of our largest local employers and hundreds of living-wage manufacturing jobs," said Port of Lewiston Commission President Mike Thomason.
Hitting the road to talk multiuse river
Port reps and partners offered educational activities at NP County Fair and Riverfest
Top Left: The Port of Lewiston water wheel exhibit uses running water to turn a turbine and generator, which is connected to a LED light strip to demonstrate how hydropower works.
Top Right: The Pioneer Port's (Clarkston, Lewiston and Whitman County) penny cargo challenge attracted many at Riverfest. Participants were given a strip of aluminum foil and worked to create a vessel that, like river barges, would safely transport lots of cargo. One design held over 300 pennies!
Bottom Left: Children loved the "sandbox" Lewis Clark Terminal filled with wheat at Riverfest. LCT raised awareness about the contribution grain farmers make to our local economy and how the Columbia Snake River System is the top wheat export gateway in the U.S.
Bottom Right: Two boys participate in a scavenger hunt at Riverfest to learn more about the river system and for a chance to win a Happy Day Restaurant gift card.
Thank you to the hundreds of interested individuals who stopped by our booth at the Nez Perce County Fair (Sept. 22-25) and at Riverfest in Clarkston (Oct. 1).
At both events, we set up hands-on activities to explore the many benefits of the Columbia Snake River System, including: hydropower, efficient
marine transportation, various recreation opportunities and advanced fish passage systems.
Thank you to Avista for donating hydropower educational materials and to Lewis Clark Terminal, Tidewater, the Ports of Clarkston and Whitman County, Clearwater Economic Development
Assoc., U.S. Army Corps of Engineers and Snake River Alliance for helping make the "Celebrating Our Rivers" booth at Riverfest a huge success!
UPDATE: CURRENT PORT PROJECTS
Incubator building remodel nearing completion
Left: The incubator building as it appears mid-October. Right:  Layout for renovated incubator, transforming Suite D into two separate suites. The new Suite D will be 4,500 sq. ft. and the new Suite E will be 3,000 sq. ft.
The Port of Lewiston is working with Bott & Associates Architects and K&G Construction to renovate the business incubator building, located at 1708 6th Ave N., so it offers five spaces instead of its previous four.
"When Printer's Distillery moved out of the 7,500 sq. ft. Suite D, we advertised its availability, but found start-up manufacturers were looking for smaller spaces," said Port Commission Vice President Jerry Klemm. "We decided to transform Suite D into two separate spaces, each complete with its own production area, office space, bathroom and overhead garage door."
The newly completed Suites D and E will be available starting Dec. 1.  Also, Clearwater Canyon Cellars will soon move into their new winery near the company's vineyard on Gun Club Road. This means Suites A and B will  become available to incubate new manufacturing businesses in the near future.
For more about the program and to inquire about suite availability, visit our website: https://portoflewiston.com/economic-development/incubator-program/ or call our office at 208.743.5531.
Fiber optic winds its way through Lewiston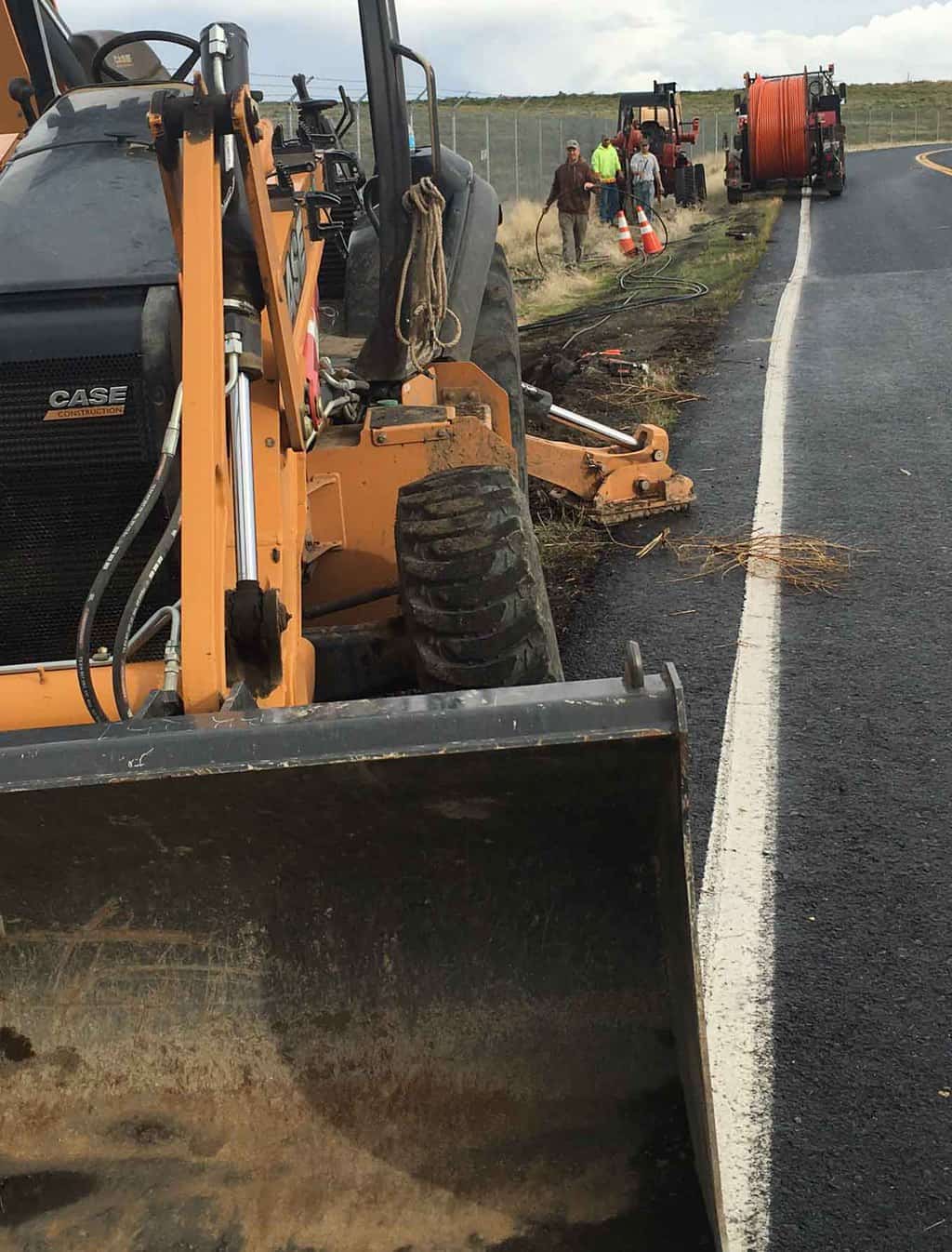 This photo was taken as Summit Utility Contractors installed the Port of Lewiston's fiber optic cable behind the Lewiston-Nez Perce County Regional Airport.
The Port of Lewiston has installed approximately 13 miles of fiber optic cable, extending from Memorial Bridge through downtown, to the airport and more.  This project provides an open access fiber optic highway to internet service providers and aims to increase internet speeds and redundancy for our area.
TENANT NEWS
Clearwater Canyon again recognized for award-winning wine
Congratulations to Coco and Karl Umiker of Clearwater Canyon Cellars! The Port of Lewiston tenants received a Double Gold for their 2013 Selway and a Silver Medal for their 2014 Phinny Hill Carmenère in the prestigious 2016 San Francisco International Wine Competition. Learn more about the awards on their website:  https://clearwatercanyoncellars.com/blog/.
Extended navigation lock closure begins Dec. 12
An extended lock closure is scheduled to occur Dec. 12, 2016, through March 20, 2017, affecting all navigation locks operated by the U.S. Army Corps of Engineers on the Columbia and Snake rivers.
No traffic will be able to pass through during this time. The closure was initially
announced in May 2015 to help commercial navigation businesses, customers and other river users to prepare.
"The planned repairs are necessary for continued operations and to maintain safe and reliable passage through the Columbia-Snake River navigation system. Aging infrastructure sometimes requires extensive non-routine repairs and rehabilitation that cannot be completed within the traditional two week-long annual routine maintenance outages," said Walla Walla District's Chief of Operations Division Rick Werner. "Extended lock closures are very unusual and carefully coordinated between the districts to prioritize needed lock repairs and minimize the duration of closures. This work will improve the long-term functionality and safety of these locks and improve the reliability of the Columbia-Snake River navigation system as a whole."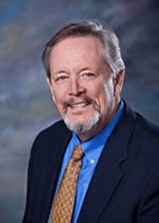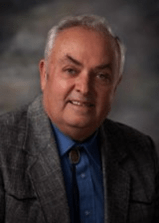 Jerry Klemm
Vice President
Mary Hasenoehrl
Secretary/
Treasurer
Now is the time to show support for our river system!
Public comment period underway through Jan. 17
Submit at: www.crso.info
For this report, we wanted to share a communication piece recently created to elucidate the many benefits of our multiuse river system.
In this case, a picture is worth a thousand words. We could go on for pages about how important the rivers are in our lives.
Instead, we would like to ask you to consider this infographic, enjoy a pleasant walk along the levy trails during one of our crisp fall days and think about how different the LC Valley would be without our river system.
If you believe, like we do, that our multiuse river system is vital to the preservation of our economy, our environment and our sense of place—both as Idaho's Only Seaport and in offering various recreation opportunities via Lower Granite Lake—now is the time to share that sentiment.
The federal agencies in charge of Columbia River System Operations are beginning the process of preparing an environmental impact statement (EIS). The EIS will "present a range of alternatives for long-term system operations and evaluate the potential environmental and socioeconomic impacts on flood risk management, irrigation, power generation, navigation, fish and wildlife, cultural resources and recreation."
This EIS process was a directive from the latest court ruling in the ongoing debate about how best to balance the benefits of the river system with the impacts to salmon and steelhead species protected under the Endangered Species Act.
A series of public scoping meetings are under way to examine issues and accept public comment.
At the Port of Lewiston, we believe we can continue to pursue aggressive and effective strategies for fish recovery while maintaining the multiuse river system that means so much to all of us. We hope you will join us in expressing this position in the EIS process. It is imperative that federal agencies weigh comment from both sides of the debate. For more: https://portoflewiston.com/snake-river-dams/
---
Columbia River System Operations EIS Meeting in Lewiston:
Nov. 16 from 4-7 p.m.
Seaport Room at Red Lion
Visit this link to learn more about the scoping meeting process and other meetings scheduled throughout the region and in webinar form: www.crso.info. Written comments may be submitted at any of the public meetings or mailed to U.S. Army Corps of Engineers, Attn: CRSO EIS, P.O. Box 2870, Portland, Oregon 97208-2870. Emailed comments can be sent to comment@crso.info.
---