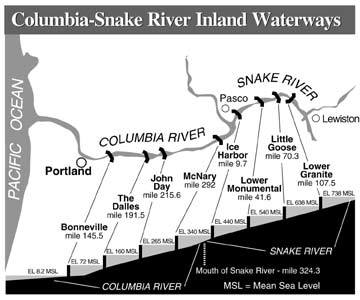 The Port of Lewiston accesses the Lower Snake River, part of the Columbia Snake River System, an incredible asset for the Northwest.
The system is part of a national transportation system and it provides both economic and environmental benefits.
In addition to navigation for affordable shipping, cruise boats and recreational users, the dam system provides power generation, flood protection and farmland irrigation.
The carbon footprint of barging is considerably smaller than other freight transportation options. According to a Canadian National Railway study, barging creates 33% less air pollution than trains and 373% less than trucks.
Also, because of clean renewable power, including hydropower produced at these dams, the Northwest's energy "carbon footprint" is half that of other parts of the country.