Approximately 1% of annual property taxes paid by a City of Lewiston resident go to the Port. Property taxes are used solely for economic development activities and do not fund general Port operations.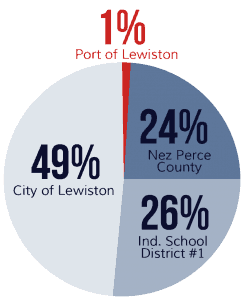 Since 1990, Nez Perce County  property owners have seen taxes paid to the Port of Lewiston decrease by 61 percent. At the same time, taxpayers enjoy a substantial return on investment.
"For every $1 of taxpayer investment by the Port, approximately $8.80 in local tax revenues are created by the economic activities and the entrepreneurial firms associated with the Port," said Steven Peterson, research economist and clinical assistant professor with the University of Idaho.
Peterson completed a study in 2014 to gauge the economic impacts of the Port of Lewiston and the  Pioneer Ports (the Port of Lewiston, Port of Clarkston and Port of Whitman).
A few highlights from the study:
– Firms and businesses associated with facilities or properties developed by the Port of Lewiston provide 1,840 direct jobs in the region.
– Approximately $390 million in direct regional spending is associated with those jobs.
CLICK HERE TO LEARN MORE ABOUT DR. PETERSON'S STUDY
"We strive to keep taxes low and maximize our annual investment in economic development," said Port Commissioner Mike Thomason. "The average Lewiston homeowner pays just $16 annually to the Port."
Over the past ten years, the Port has invested an average of $700,000 per year into Nez Perce County for economic development. That figure includes approximately $450,000 derived annually from property taxes, plus additional revenue generated through Port operations.