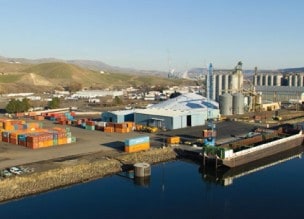 Port Facilities & Container Yard
Port facilities are ideal for shipping break/bulk, oversized and roll on/roll off cargoes directly from barge to storage or truck. We offer an equitable, alternative route for bulk cargoes destined into Canada, Wyoming, Montana, North Dakota and beyond.
We are pleased to announce that limited container shipping from the Port of Lewiston to the Port of Tacoma is currently available.  Please contact Kim, Port of Lewiston Traffic Manager, at 208.743.3209 to inquire on schedule and availability.
Lewiston / Nez Perce County